Set the Scene for a Sophisticated Spooky Soiree
The tricks (and treats) required for hosting a party filled with mystery and intrigue
Parties thrown in October typically conjure scary thoughts of cheap costumes, orange pumpkins and faux spider webs. Well, Amanda Shirk and Whitney McDonald, the event-planning duo behind Pretty Little Details Co., say "Boo!" to all that.
The pair created a sophisticated soiree filled with rich, moody and unexpected hues, built celestial installations and introduced lots of clever ideas for the fortune-telling cocktail party they hosted with The Rose Wine Bar + Bottle Shop in South Park.
For her part, Chelsea Coleman, The Rose co-owner and chef, conceived a menu of finger foods with nods to this month's ghoulish holiday and paired the bites with biodynamic wines (more on that in a bit). Guests were encouraged to dress the theme, sip wine, enjoy the nibbles and peer into their futures.
Read on to get all the tricks—and recipes—to host a sophisticatedly moody bash this month.
Pick Your Poison (err, Palette)
To create a dramatic but celestial atmosphere, Amanda and Whitney pulled inspirational images, culled through their inventory (and thrifted what they didn't have) and settled on an emerald-green, dark-blue, black, amber and deep-purple color story. "Typically, we start with a palette of three to five colors," Amanda says. "But you should always add a metal, which counts as a neutral."
This shindig has an ethereal vibe as well. To lighten things up, they decked out a crescent shape they built with white feathers to serve as a backdrop for photo ops and created an installation for the lounge area using copper piping and dried nigella pods.
Eva De Leon of Sage Sisters lent her floral-styling expertise to bring in complementary as well as unexpected pops of color. "I was thinking about the iconic witch's caldron and the smoke coming from it," she says of her inspiration. From that, Eva fashioned the centerpieces by placing stems of red, lavender and shades of pink roses (some blooming; some beginning to wilt); purple irises; mauve foxgloves; multihued dahlias; ivory bunny tails; dramatic hanging amaranthus; oxblood foliage and more directly into damp floral foam that she set in a tray (to protect the table).
She concealed the foam using "mist" she created with batting she spray-painted in subtle hints of gray and purple to look like fog. Other floral arrangements in crystal ball-like vases submerge foliage in water, distorting it so they resemble visions one might see during a meeting with a fortune teller.
Set the Mood
The private room at The Rose's bar and shop is big, so Amanda and Whitney divided up the space visually with vignettes styled for specific functions. They started with the table. "It really sets the scene," Whitney says. The pair layered matte black plates, married them with matching flatware and added midnight-blue and crystal goblets. They DIYed the napkin rings and name cards and put a collection of gold candlesticks and black candles down the center.
Besides the photo area and lounge, they created a comfy corner for the tarot card-reading magic to take place on the floor (levels in a room make the setup more interesting). Behind the dining table, Amanda and Whitney set up a buffet table so guests could eat and mingle while they waited to meet with the medium.
On the far side of the room, the drink station included various wines and the evening's signature cocktail that bubbled and steamed in a punch bowl.
Various forms of light, including strands of exposed bulbs, candles (some flameless, some not) and lanterns cast a magical, mystical glow over the entire space.
Eat and Drink Your Heart Out
Chelsea made all the bites elegant with a slightly sinister spin.
A cheese board greeted guests as they arrived with a variety of meats, cheeses, fruits, veggies, olives, seeds and honey. "Oysters are fancy and fun and kind of remind me of boogers," Chelsea laughs. She topped the mollusks with chic and salty caviar and served them with fresh lemon slices.
The primal vision of eating carnage from a bone inspired her choice to cook lamb chops, which she garnished with pomegranate seeds. "And garlic wards off vampires, so I thought I'll chop up garlic, chicory, fennel and dukkah, an Egyptian nutty-herb mixture, and place it on top of endive."
The wines were mostly biodynamic, meaning the grapes were farmed without chemicals and according to lunar cycles and astrological influences. The signature cocktail, courtesy of The Rose's beverage director Katie FawkesMoore, also looked to the stars and combined three different biodynamic vermouths (one being red to resemble blood) and a sparkling wine, which made for a dangerously delicious—and strong!—drink.
Baked, Spiced Lamb Chops + Chimichurri
Serves 8
For the lamb chops
2 French-cut lamb racks
1 TBSP. toasted cumin
1 TBSP. toasted coriander
1 TSP. smoked paprika
2 TBSP. salt
For the chimichurri
2 garlic cloves, minced
4 TBSP. red wine vinegar
1 bunch Italian parsley, chopped, plus more for garnish
1/2 cup fresh oregano, chopped, plus more for garnish
1/2 cup olive oil
1 TSP. red pepper flakes
Salt to taste
Pomegranate seeds for garnish
Mix the spices and salt together and rub it on the fatty and bone sides of each of the racks of lamb, and let it sit in the refrigerator for at least four hours.
TIP: People typically trim the fat from racks of lamb, but you will get a richer taste if you leave the fat intact.
Preheat the oven to 450°F.
Bake the lamb chops, fat side up for 15 minutes. Flip them and bake for another 5-10 minutes. They're done when the internal temperature reads 145°F (medium rare) on a meat thermometer.
Let the meat rest for at least 15 minutes before slicing into it. Chelsea says this is actually the most important part of the entire recipe.
Meanwhile, combine the garlic, vinegar and herbs. Let it sit for a minute so the vinegar has time to draw out all the "good juju" from the herbs, making it better, Chelsea says. Add the olive oil, red pepper flakes and salt to taste.
Garnish with more herbs and pomegranate seeds.
Chicory Salad with Almond Dukkah
Serves 8
2 heads chicory, chopped (Castelfranco and Chioggia Radicchio are Chelsea's faves)
Endive for serving
Pomegranate seeds for garnish
For the dressing
1 TBSP. lemon juice
1 clove garlic, minced
1/2 TSP. salt
1/2 TSP. stoneground mustard
2 TBSP. olive oil

For the almond dukkah
3/4 cup almonds
1 TSP. fennel seeds
3 TBSP. coriander seeds
3 TBSP. sesame seeds
1 TBSP. cumin seeds
1 TBSP. sweet paprika
1 TSP. sea salt or kosher salt
Gently toast almonds in a frying pan until golden and fragrant then pulse them 5-10 times in food processor.
Toast the fennel, coriander, sesame and cumin seeds until fragrant. Run the mix through a spice grinder, then combine with the almonds, paprika and salt.
Store in an air-tight container for use here and any recipe in need of pizzazz.
Pour the lemon juice in the bottom of the salad bowl. Add the garlic and salt, and allow it to sit for 10 minutes. Add the mustard and olive oil and whisk to combine.
Toss the chicory mix with the dressing and 3 tablespoons of the dukkah.
Serve the salad in endive boats and garnish with pomegranate seeds.
All the Extras
Shopping, fashion, makeup, tarot and even how to make natural black food dye: we've got plenty more spooky soiree tips here.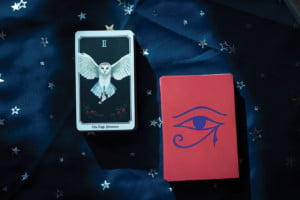 If you're interested in hiring a tarot reader, as our hosts, Amanda Shirk and Whitney McDonald of Pretty Little Details Co. did, we've pulled together some tips and advice for making it work.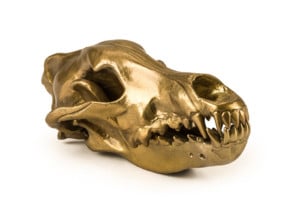 Instead of making this a costumed event, Amanda and Whitney of Pretty Little Details Co. (and many of their guests) donned fashions and accessories with a glamorously gothic vibe. Don't have something similar in your closet? Look to the night sky. Plus decor and place setting goods too.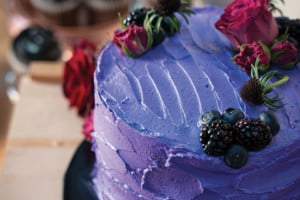 All-natural shades you can make with items you likely already have in your kitchen (including purple and black).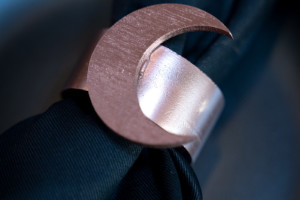 A tutorial for the Pretty Little Details Co. celestial place settings and table decor. (Since when is baseball goth?)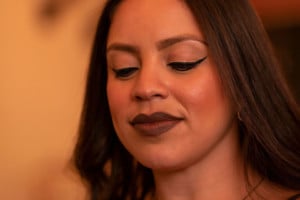 Kick the classic cat-eye makeup up a notch for a seasonal or spooky event!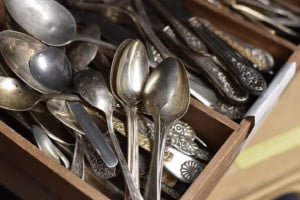 The masterminds behind Pretty Little Details Co. gave us some tips on the best local resellers and what you can find there.