Fairy Garden 101
Our guide on where to shop, which materials to use, and how to build and care for your own living DIY fairy garden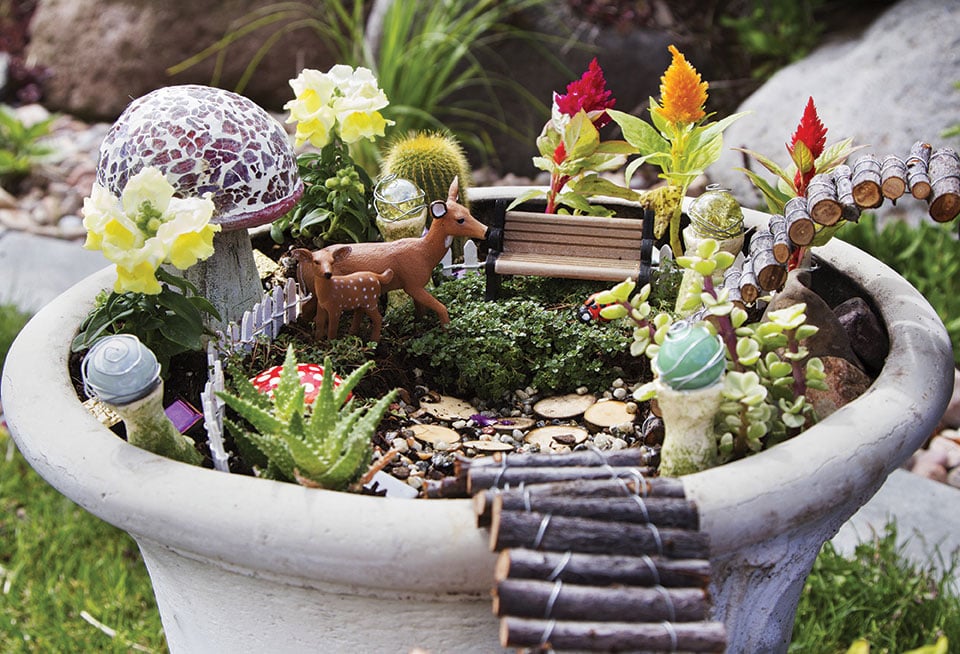 Let me guess…you are reading this article in between making peanut butter sandwiches without crusts, or in the waiting room so you can squeeze in all your doctor's appointments before the new school year begins. Am I close? Here is the reality: As parents, summers are exhausting. Sure, when you're the elementary-school kid, summer is the best time of year—the long days, warm weather and one adventure after the next. But as parents, we're bouncing around between summer camps, snack breaks and on a constant hunt for activities that get the kids away from the TV and video games. Well, let me introduce you to my best-kept secret: the mini fairy garden.
Build a DIY Fairy Garden
Much like the concept of the common terrarium, mini gardens and fairy gardens are small-scale scenes and tableaus that can be almost anything. Some people like to add a touch of whimsy with fairies and animals, and some more advanced mini gardeners create live-action cityscapes or 3-D models with beautiful live plants, scaled walkways or paths, and perfectly placed furniture. It's easy to get lost in the precision mini gardens can provide, but what we as a family love is letting our kids explore their imagination and creativity in a fantasy world. The critical element of every mini garden and fairy garden is fun. Creating these make-believe structures has a way of inciting adventure and is a sure-fire way to get your kids active in the outdoors.
Add Live Plants
Before shopping for your favorite little figurines, plan what plants will thrive in the decided-upon location. Succulents are a mini garden's best friend because they're incredibly resilient, come in all shapes and sizes and can be easily propagated in additional garden locations. Or go the mini-plant route. Shop online or at local nurseries for "dwarf" varieties. Some of my favorites include the Just Dandy Hinoki Cypress (Chamaecyparis obtuse), dwarf mugo pine and dwarf mondo grass (Ophiopogon japonicus). Also, explore mosses and grasses for ground cover to create more layers and textures in your garden.
Gather Supplies
One thing that I have to stress is that you don't have to spend a lot of money on your mini garden. If you are just looking to get your kids outdoors and let them explore their creativity, try upcycling items and DIYing as much as you can. Gather inspiration online, and get lost in YouTube videos. The ideas are endless, and the how-to videos are so much fun to watch together as a family.
What you need and where to find it:
Legos, the prize that comes with the McDonald's Happy Meal, mini superheroes and small animal figures help create a story. We love using dollhouse furniture too. Remember, anything that you add to your garden should be waterproof and somewhat resilient to weather and soil. We learned this the hard way during what we call the Paper Doll Incident of 2018.
Look in the kitchen. Broken pots and pans, old cups, bowls and plates offer great opportunities to make different levels and spaces by stacking them.
Walk around the yard to find rocks—big or small—which creatively become rivers, pathways or barriers.
Shop second hand online. Search eBay to find new or used, fancy fairy-garden figurines for dirt cheap. Try putting "Fairy Garden Lot" in the search bar for tons of people looking to unload all their mini- and fairy-garden trees, rocks, structures and containers at once.
Visit the dollar store to score inexpensive quirky figures and accessories. My girls love buying fairies, bridges, wishing wells, flamingos, dinosaurs and cars here. Encourage your little ones to think outside the box, and suddenly, straws turn into firefighter poles and whistles on a string become swing sets.
Head to craft stores like Hobby Lobby, or visit miniaturegardenshoppe.com for specialty items such as the flip-flops, sand castle and more pictured here.

Construction
After you choose your base structure(s), whether they are ceramic pots, baskets or a tiered fountain, you can place containers in the chosen garden location. Build in layers. I love using a variety of levels because it offers more opportunities to plant and more space to play. Once your garden bases start to take shape, you can add soil to your containers and start planting your live plants. Greenery comes next, then water, rocks, figurines and toys.
Maintain and Play
Now, the magic begins. You have a unique play space to explore. As you maintain your garden, be sure to teach your kids how to prune and manicure, and continually refresh their imaginative lands with new and fun items like this red-table-and-chair set and the carrots above, both from miniaturegardenshoppe.com. Create new structures and expand their gardens over time.